Custom Industrial Labels, Stickers & Tags
Whether your company builds or distributes construction equipment, manufacturing equipment, medical devices, telecommunications products, HVAC components or any other type of machinery or heavy-duty equipment, it's likely your product is subject to harsh environmental conditions. Clearly, your industrial labels must withstand those harsh conditions as well.
You can be confident that the NFI Corp. industrial labels on your product will meet your demanding specifications and stand up to rugged environmental conditions.
Examples of Industrial Label Uses
Many of our global customers manufacture a wide variety of equipment that requires instruction labels, safety stickers, and quality control tags. Here are just a few examples of how companies use industrial labels:
Trucks, boats, forklifts, and other transportation equipment – Industrial labels must stand up to extreme outdoor environments including saltwater immersion.
Industrial and lab equipment – Industrial labels must endure exposure to corrosive chemicals and industrial solvents.
Medical devices – Industrial labels must withstand the repetitive use of abrasive cleansers in hospitals and clinics.
What Kind of Industrial Labels Are You Looking For? We Can Help!
Companies around the world rely on NFI Corp. as their reliable source for:
Custom industrial labels, tags, stickers, nameplates, and keypads
Manufacturing labels
Engineering stickers
QC stickers, labels & tags
QR codes, barcodes, serial number labels
OSHA safety labels
Instructional labels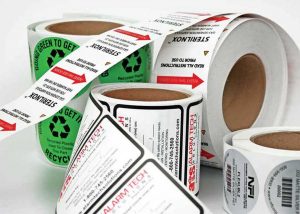 Engineered Construction: The "Secret" to NFI Corp.'s Custom Industrial Labels
With decades of experience as a custom label manufacturer, NFI Corp. has teamed with companies in all types of industries. Backed by this breadth and depth of experience, we have developed a process we call "engineered construction."
Our in-house team of engineering-based designers will listen to your needs and specifications, then apply a consultative approach to spec out your custom industrial labels. Our experts help you navigate the many choices regarding materials, substrates, inks, and adhesives. We pride ourselves on working with you to engineer the right construction to meet your long-term goals and ensure your industrial labels survive harsh environmental conditions.
In fact, when you call us, we may mention our Design-to-Delivery quality system. This enterprise-wide system ensures a focus on quality at every step in the process. This means you get skilled design and prepress production, exceptional service, and reliable on-time delivery.
At NFI Corp., we know your custom industrial labels, manufacturing labels, and engineering stickers must have the durability to last the life of your product – without fading, tearing, or peeling. Features of our industrial labels include:
Abrasion and chemical resistant
Custom-engineered adhesives
High-performing durability
Cost-effective (low tooling costs)
Appropriate for indoor and outdoor use
Permanent
Plastic
Weatherproof
Can include serial numbers and bar codes
Can include property information, model numbers, and static or variable data
Peel tabs for easy application
Materials and How to Choose
Once your label is applied to your equipment, will it be susceptible to constant handling by operators? To harsh chemicals, cleansers, or solvents? To extreme environmental conditions? Thanks to our subsurface printing technique and high-quality materials, NFI Corp.'s plastic industrial labels won't peel or crack. The design or verbiage won't scrape off, fade, or disappear. These durable labels weather well, stick to a variety of surfaces, and go the distance.
High-Quality Materials for High-Performing Durability
When it comes to industrial labels, long-lasting durability is a must. Period. At NFI Corp., we know your instruction label, safety sticker, or quality control tag must perform over the long haul – without fading, tearing, or peeling. That's why we'll engineer your custom industrial labels to meet your product's specific needs and environmental conditions. Don't be surprised if your custom industrial labels last as long as your equipment!
Surface Types & Adhesive Choices
Our engineering-based designers are an inquisitive bunch! When talking with you about the industrial labels you'll need, they'll ask plenty of questions – and with good reason. For example, the environmental conditions will directly impact the choice of materials for plastic labels: polyester versus polycarbonate.
In addition, the application surface also plays an important role. In particular, the surface of application determines the type of adhesive needed. Is there low surface energy? Is it a powder-coated finish? Is the surface smooth (such as stainless steel) or is it textured? Each adhesive is perfect for certain surfaces – but not suitable for all surfaces. Our designers seek to clearly understand the label's usage, so they can recommend the correct materials.
Withstand Harsh Environments
Companies in every industry imaginable rely on NFI Corp. for all types of heavy-duty plastic labels including security labels, OSHA safety labels, high-temperature labels, and chemical-resistant labels.
What is your application? Based on your needs and specifications, our engineering-based designers will select the materials and adhesive to ensure your custom industrial labels withstand extreme weather conditions – including direct sun and saltwater immersion – as well as abrasive cleansers, chemicals, and industrial solvents.
Our engineered construction, permanent plastic labels are:
Functionality
Industrial labels work hard. They might communicate safety notices or operating instructions. The might have QR codes or barcodes for scanning, which facilitates manufacturing, inventory, and shipping. They might feature embossed, cut out, or textured areas to support the product's usability. They might feature Braille or visual icons to convey vital notices.
Depending on the type of material selected for your custom industrial label – and the label's functionality – you can choose from a variety of gauges and finish textures including glossy, velvet, textured, matte, or brushed. Every industrial label has different functional requirements, which drive the specifications for materials, engineered adhesives, the overall design, and the final deliverable.
Custom Shapes
Newsflash: Industrial labels don't have to be rectangular! At NFI Corp., we have a library with thousands of dies to choose from, including a wide variety of round, oblong, square, and rectangular sizes as well as unique shapes. Or you can order your own custom die. Our design team will work with you to select or create a custom shape.
Do you need a lower quantity of labels with tight tolerances or an intricate design? Then our laser-cutting process may be the perfect option for you. Plus, you won't have to invest in a die. (Read our blog article on the difference between die-cut and laser-cut industrial labels.)
If you need a unique, custom design for your industrial labels, take advantage of our Prototype Program. You can order 10 pieces to verify the label's shape and overall look-and-feel. This provides an opportunity to adhere the prototype label to your product or machine housing to ensure form, fit, and function.
Offering a Depth of Industrial Label Expertise
Backed by 40 years of craftsmanship, NFI Corp. is the global leader in the production of custom, high-performing graphic solutions. We are dedicated to crafting industrial labels that offer superior quality and high-performing durability.
To learn more about how NFI Corp. serves the needs of manufacturers in various industries, just click on the links below:
Get a Prototype of Your Custom Industrial Labels
With NFI Corp.'s Prototype Program, you get rapid product development. This program is ideal for a quick turnaround of small runs to confirm form, fit and function.
Specifically, you get:
Individualized support from our skilled design and pre-press team
Rapid development (3-5 day delivery)
Small quantity production (10 pieces)
Testing without the costs of full production or tooling
How to Get Started on Your Project
Call us at (800) 999-8900. Our customer service representatives are available Monday through Friday, 8:00 am to 5:00 pm Eastern, or CLICK HERE to contact us.